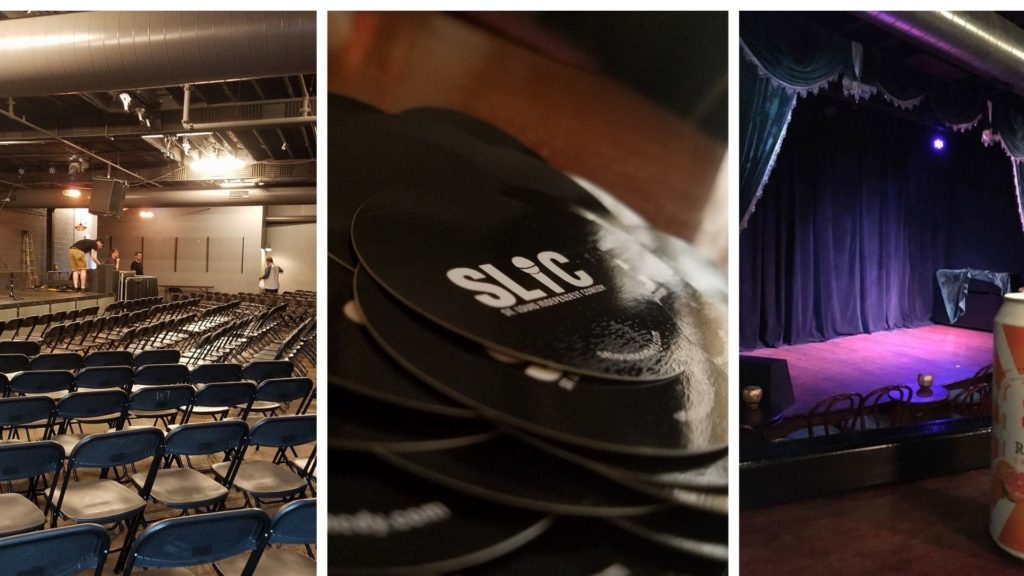 St. Louis is infused with a variety of stand up comedy, improv, podcasts, & other entertainment every month. Allowing St. Louis audiences to watch local talent develop, as well as a chance to see touring comics passing through the area, many of these shows are in intimate venues & are free or have cover charges more affordable than a traditional comedy club. Including virtual showcases & mics, the local comedians of the St. Louis area are constantly providing a creative environment for the consumer of comedy to enjoy.
Have a show/podcast/comedy related production that is going on you don't see here? Visit our 'About Us' page for contact details.
**COVID-19 Note: Some of these shows are currently on hiatus until further notice. We will continue to update if there are any changes to be made either way.
THIS IS CASUALLY HAPPENING: A COMEDY SHOWCASE AT THE GOLDEN HOOSIER
A new showcase featuring local comedians produced and hosted by comedian Mollie Amburgey in the upstairs event space of The Golden Hoosier in South City, St. Louis. For more information, please email casuallymollie@gmail.com.
THE HIGH NOTE: MUSIC IMPROV COMEDY
The High Note is an audience interactive night of music improv comedy. A cross between Whose Line Is It Anyway and the old live performances of the Rat Pack in Las Vegas, join The High Note for an evening of cocktails, music, and comedy. This show is every other Saturday, 10-11pm. The upcoming dates running will be Jun 11th – July 23rd at The Improv Shop, with the exception of the July 9th show at 8pm (3960 Chouteau Ave, St. Louis, MO 63110). Tickets are $5 and can be purchased here: http://theimprovshop.com/show/the-high-note/
BEST MEDICINE COMEDY SHOWCASE @ THE COLA LOUNGE
This show will be the 3rd Friday of every month with a rotating line up of comedians at The Cola Lounge (2847 Cherokee Street, 2nd floor above Blankspace). Tickets are $20 and include a full day pass to the lounge. Message Kyle William Kisner for more information.
STL LGBTQ: JOKES WITH QUEER FOLKS COMEDY SHOWCASE
This show premieres on April 24th at Helium Comedy Club St. Louis. It will be hosted by Cori Stewart. Message Cori Stewart on Facebook Messenger for more information.
THE FUTURE IS FEMALE
This monthly showcase at The Heavy Anchor features female comics from the St. Louis Area at every level of their careers. Hosted & produced by Meredith Hopping
THE GASLIGHT THEATER COMEDY SERIES
Located at The Gaslight Theater on Boyle Avenue, the summer showcase starts again on June 25th, 2021, showcasing National Touring Headlining Stand Up Comics and local favorites. For more information, visit the series' Facebook page.
HISTORY SHMISTORY
Local comedians perform as historical figures in this monthly show. Now operates as a podcast ambushing comics mid-interview by assigning them a historical figure. Created/hosted by Christian Lawrence. Follow this show on their Facebook page.
O'FALLON OUT LOUD
Originally started by Shaun Arredondo, St. Louis comedian Andy Hamilton now hosts this monthly showcase at Rendezvous Cafe & Wine Bar. Andy brings a headliner, a feature, and assorted guests to a cafe setting where patrons enjoy a club style show while sampling a great selection of food and drinks.
SOUTH CITY COMEDY SERIES
This weekly showcase is hosted by Tom Brown at the original Apotheosis Comics location on South Grand! Spend your Saturdays in this combination comic book store/bar and laugh with some of the city's rising stars of comedy. Ticket entry is $5.
FOCUS ON THE FUNNY
Founded by comedian Jason Nelson, Focus On The Funny produces & promotes live comedy shows. They also assist in booking talent & creating comedy based content. For more information, visit their Facebook page.
VINTAGE WINE BAR COMEDY SHOW
Over the river in Illinois, Emily Zell hosts a line up of comedic talent every 3rd Tuesday of the month at The Vintage Wine Bar, 212 S Main St, Waterloo, IL 62298. Free admission!
WELCOME BACK! SHOWCASE
Welcome Back! is a monthlyish Friday standup showcase at The Heavy Anchor run by Jeremy Hellwig. It features long sets from comedians that are good at standup.
COMEDY ON TAP
This showcase is the first Thursday of the month located on the second floor club room of the Schlafly Taproom in Downtown St. Louis. Show starts at 8pm.
DOUBLE DARE COMEDY
This showcase is the first Wednesday of the month at the Platybus bar in The Grove neighborhood. Message Cori Stewart for more details.
More Than Stand Up
There are a ton of comedy related projects going on in the St. Louis Comedy scene! There's improv, talk shows, variety shows, podcasts, & sketch comedy. This is just a small sample of what's going on.
Have something similar going on that you want us to know about? Know of one that you think should be added to the list? Visit our 'About Us' page for contact information.
IMPOLITE COMPANY PODCAST
Impolite Company is a podcast where no topic is off limits. Normally hosting monthly showcases at The Crack Fox, Impolite Company is now expanding to socially distanced shows still at The Crack Fox, as well as 9 Mile Garden. Follow the Impolite Company Facebook page for updates on upcoming shows & more.
ROCK PAPER PODCAST
Do you like St. Louis comedy? Do you like St. Louis music? Shane Presley interviews both as part of his regular podcast. Take a minute to check out this great look at the creative scene in St. Louis by following the podcast on Facebook & Instagram, in addition to streaming it wherever you stream your podcasts.
SLOP CITY PODCAST
Hosted by St. Louis comedians Libbie Higgins & Tina Dybal, this podcast is chock-full of free flowing discussions with improvisation & hilarious storytelling. By the end of your first listen, you'll be subscribing wherever you stream your podcasts! Follow on Facebook, Instagram, & YouTube.
THE CASUALLY MOLLIE PODCAST
St. Louis comedian Mollie Amburgey hosts a podcast that showcases casual interviews with comedians, musicians, & other entertainers in St. Louis, as well as out of town. Casually check this podcast out on Facebook, Instagram, & YouTube, in addition to streaming it wherever you stream your podcasts on audio.
THE DAY AT NIGHT PODCAST
Day at Night is a podcast with a late night influence featuring monologue jokes, funny segments, celebrity interviews, & great musical guests. St. Louis comedians Jimmy Day & Jack Schurk bring late night to your ears with a talk show that you can enjoy anytime and anywhere. Follow this podcast on Facebook & Instagram, & stream on Apple Podcasts & Spotify.
THE COPING PODCAST
A podcast with St. Louis comedian Brendan Olson discussing death, grief, & spirituality with those who have experienced it first hand. Subscribe wherever you stream your podcasts & follow on Facebook.
BOONDOGGLE
A live comedic variety show written and performed entirely by Aaron Sawyer & a rotating guest comedian. Follow their Facebook page for more details.
SORRY, PLEASE CONTINUE
A cross between The Moth Radio Hour and Mystery Science Theater 3000, "Sorry, Please Continue" is a storytelling show where a panel of comics and guests provide insight and humor while interrupting guest storytellers. Kenny Kinds and Jeremy Hellwig host the show with a different guest panelist each month. Check out their Facebook page for opportunities to be a storyteller on this show.
THE IMPROV SHOP
Whether you want to learn the craft or watch others practice it, The Improv Shop in the city's Grove Neighborhood is the place to go. In addition to stand up and improv shows, they offer classes on everything from sketch writing to scene work, and of course, improvisation. They also have the best damn burger in town.